Whoosh!
Get kids thinking and moving with this picture book about creatures that love water as much as we do. Each spread shows an animal in a watery scene on one side and a child mimicking the animal's activity on the other. From splashing like a dolphin to fishing like a heron, from snoozing like an alligator to hiding like a clownfish, the echoing images bring to life the real ways that animals behave—and reveal how there's a little bit of animal in all of us.
The book closes with a "Guess What?" section that provides brief and quirky facts about the animals featured throughout. A rebus at the back encourages children to read on their own and discover other ways to get up and move, by scuttling like a crab or waddling like a penguin. With 
Whoosh!
 readers will splash through the bright, engaging illustrations into a water-filled world of play and learning.
Marilyn Baillie, Susan Mitchell
Regular price
Sale price
$16.95
Unit price
per
---
SKU: 189357n0nn1nWWW | ISBN: 9781926973982
"Mitchell cleverly connects left-hand pages, which show animals in their natural environments, to right-hand pages, which re-create the scene with children. ... The multicultural cast of rosy-cheeked kids and the large assortment of everyday and fun activities ensure that readers will relate."
- Kirkus Reviews
"Mitchell's bright paintings offer fun visual parallels between animal and child." - Publishers Weekly
"Without solemnity, this engaging picture book draws attention to the value of something we tend to take too much for granted."
- Quill & Quire, STARRED REVIEW
"This lovely book featuring the water creatures that all children seem to be fascinated with is a wonderful offering for all libraries. ... This book will engage children with its wonderful artwork, get them up and moving with its interactive actions, and teach them factual information about the wonders of the water animals they love. ... Whoosh! has it all – sparkling text, delightful illustrations, and a genuine educational value."
- Resource Links
"From splashing like a dolphin to hiding like a clownfish, kids get thinking and moving with this book..." - Canadian Children's Book Centre
"There's a lot packed into this attractive picture book, lots to learn and do ... one to read and reread, and to share."
- Canadian Review of Materials
"Whoosh! takes children on an enjoyable tour of the world of water and the animals that make it their home."
- Education Library, The University of British Columbia
"Offers a delightful new way for children to learn about creatures that live in and near water ... For parents and educators alike, Whoosh! is worth having on the bookshelf." - Canadian Children's Book News
A Canadian Children's Book Centre Best Book for Kids and Teens, 2014
View full details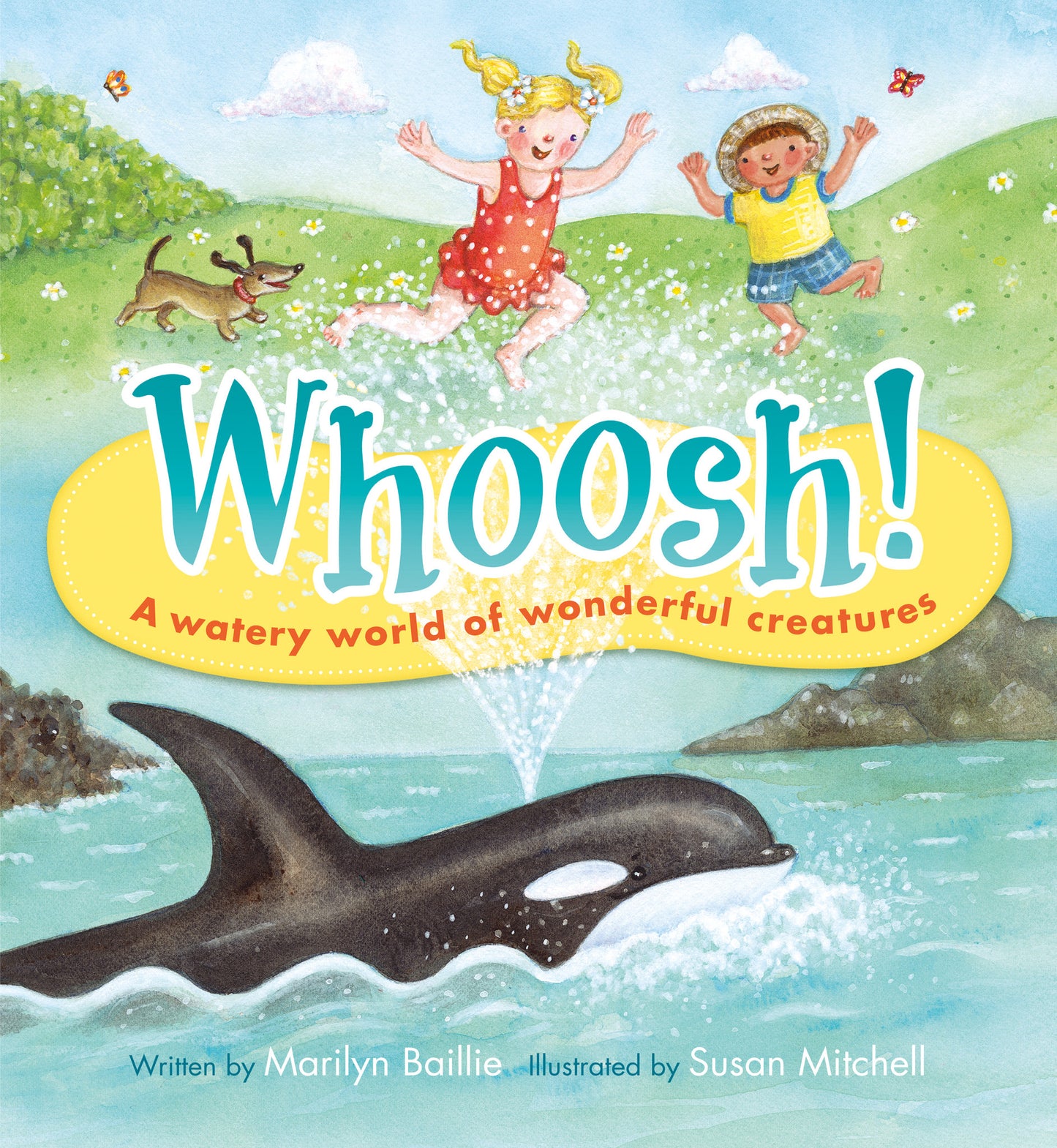 Publication date
April 15, 2014
Curriculum
Science – Animals; Environment; Life Sciences; Ecology