Trending
Explore how—and why—trends go viral with Trending, the Ontario Library Association's 2021 Yellow Cedar children's choice award winner for Grades 4 to 8.

Fads and trends: How do they start? Why do they spread? And how deep can their impact be? Although trends might seem trivial, if you dig deeper, you'll find that our desire to chase the next big thing can have an even bigger impact than expected.

Established middle-grade author Kira Vermond and cartoonist Clayton Hanmer team up in this fun and accessible nonfiction look at fads. In four short chapters, the book explores what a fad is, how the latest crazes catch on, and what makes us jump on the bandwagon. Finally, it looks at the fascinating and even frightening effects of fads both modern and historic. Who knew the beaver pelt craze in 17th century Europe would change ecosystems, start wars, and disrupt life as people knew it?

Comic-strip illustrations, an upbeat tone, and reader-friendly text make this a fun and timely tool for young readers who are building critical-thinking skills in the age of fake news and a world gone viral.
Kira Vermond, Clayton Hanmer
Regular price
Sale price
$17.95
Unit price
per
---
SKU: 204669n0nn1nWWW | ISBN: 9781771473255
"Complex material is broken down into accessible language and explained with lively example stories, allowing for a surprisingly sophisticated overview." - Kirkus Reviews – STARRED REVIEW
"An entertaining, enlightening book on an unusual topic." - Booklist – STARRED REVIEW
"The stories of the high-profile fads are entertaining and concise, and sidebars add information on related research and terminology used by social scientists to study fads." - Bulletin of the Center for Children's Books
"Vermond cuts through the hype and presents a level-headed investigation into the under-lying economic, psychological, and marketing forces that enable a fad to catch fire... [She] employs sharp-witted and thoughtful analysis to demonstrate that fads are not all fun and games." - Quill & Quire
"Trending: How and Why Stuff Gets Popular will be an opportunity for everyone to share and learn more about this interesting and stimulating subject." - Canadian Review of Materials
A Junior Library Guild Selection, 2020
Ontario Library Association Yellow Cedar Award, 2021
Best Books for Kids and Teens, 2020
A Kirkus Best Middle Grade Book of 2020
A Canadian Children's Book Centre Favourite Book of 2020
Texas Topaz Reading List selection, 2021
Ontario Library Association Best Bets Top 10 List, 2020
B.C. Children's Choice Red Cedar Book Award, 2021
View full details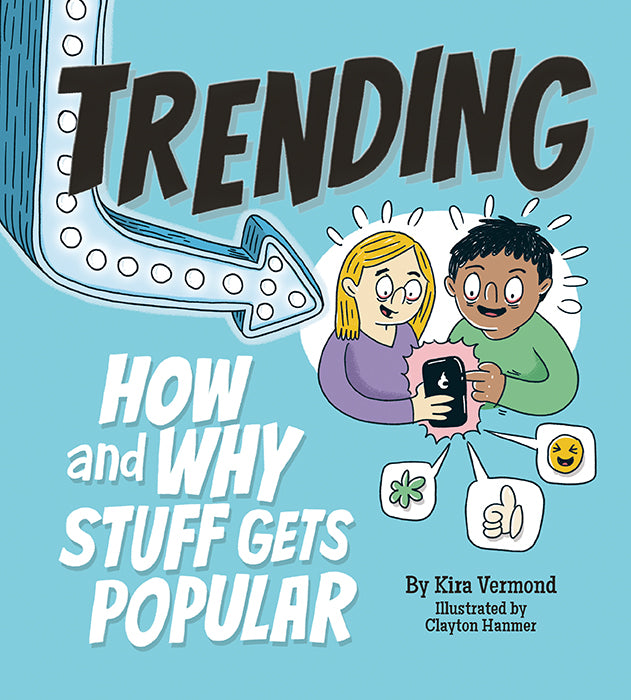 Publication date
March 15, 2020
Interest age
From 8 to 12