Rock? Plant? Animal?
An interactive guessing game featuring nature's most unusual adaptations and characteristics 
Can you tell the difference between a rock, a plant, and an animal? While it might sound simple, the vast diversity of life on earth can throw us some serious curveballs! Sometimes, what looks like a plant is actually an animal. Other times, what looks like an animal is actually a plant! Even things that look like living creatures can turn out to be unique rocks.
Young readers are encouraged to challenge their pre-existing ideas about the natural world in this engaging nonfiction book set up as a scientific guessing game, filled with lively illustrations and fun facts.
Each spread features a realistic illustration of either a puzzling critter, a perplexing plant, or a special stone. Every picture is accompanied by a simple prompt: rock, plant, or animal? The answer is revealed by turning the page to discover a beautifully detailed scene and a brief description of the "species." Even for the most esteemed naturalists, the answers are hard to believe! Rock? Plant? Animal? lets its readers be detectives, encouraging curiosity and embracing surprise.
Etta Kaner, Brittany Lane
Regular price
Sale price
$18.95
Unit price
per
---
SKU: 213862n0nn1nWWW | ISBN: 9781771474443
"An enjoyable nature puzzle with welcome substance."
- Kirkus Reviews
"Readers who like quirky guessing games or weird nature facts will get a kick out of this interactive book."
- Booklist
"This highly entertaining, interactive nonfiction picture book invites nature detectives to put on their thinking caps and prepare to be amazed."
- Canadian Review of Materials
"This book would be a wonderful addition to a unit on mimicry and adaptation ... A fun way to encourage reluctant readers, or for a partner read."
- Youth Services Book Review
"An entertaining door into the mysteries of nature ... Encourages attention to detail."
- Children's Literature Comprehensive Database
Silver Birch Express Award, 2023
View full details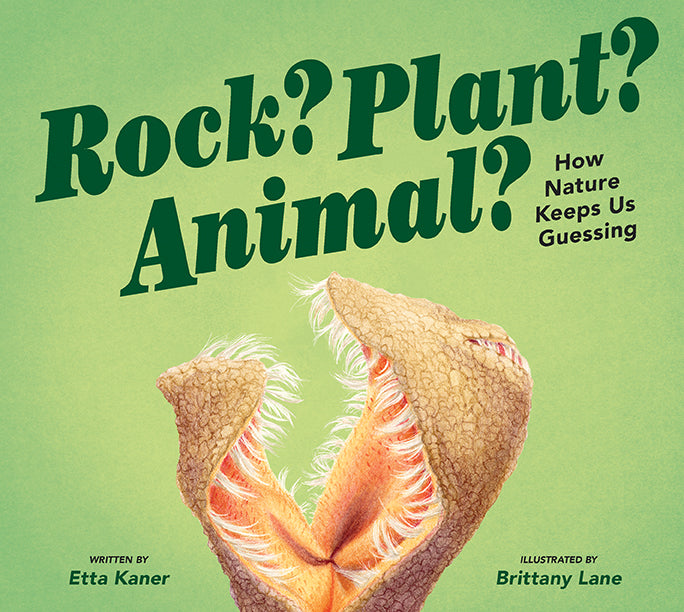 Publication date
October 4, 2022
Curriculum
Physical Characteristics of Animals; Animal Adaptations; Habitats and Environment