Revenge of the Raccoons
Rebellious raccoons take back the city in a hilarious urban romp by bestselling author and performer Vivek Shraya
Raccoons are hitting the streets to finally tell their story. The bushy-tailed bandits take over the town, swinging from cranes, scampering through subway cars, and pestering the police. Amid the mischief, the raccoons describe themselves as humans see them: thieving "trash pandas" that steal doughnuts and cash, topple our green bins, and frighten our cats. But when asked why they're invading the city, the raccoons insist they aren't pests, but survivors of the real invaders: humans.
Revenge of the Raccoons is both a riotous tale of underdog uprising and a clever commentary on humans' sense of ownership over the cities we live in. Playful rhyming text and vibrant illustrations inspired by classic horror movie posters bring the raccoons' antics to life.
As the raccoons frolic into the night, readers will enjoy cheering on the creative and cunning antiheroes, and maybe even reconsider who rules the city.
Vivek Shraya, Juliana Neufeld
Regular price
Sale price
$18.95
Unit price
per
---
SKU: 213948n0nn1nWWW | ISBN: 9781771474382
"Shraya's sparse, repetitive, rhyming text creates a mesmerizing effect that is enhanced by Juliana Neufeld's dazzling artwork ... What starts as a manifesto for creating chaos contains a deeper message about the need to peacefully coexist with wildlife."
- Quill & Quire - STARRED REVIEW
"Readers will immediately be drawn to the strong art style and funny, rhythmic text ... An instant favorite for horror fans and ecological warriors."
- Kirkus Reviews
"Offers a refreshing take on Toronto's nefarious raccoon problem while teaching the next generation the importance of sharing space ... A highly relatable story that you'll actually enjoy reading with your kids over and over again!"
- Today's Parent
"This book would be a really fun read aloud, and kids will enjoy examining the pages afterwards to enjoy all of the many antics of the raccoons."
- Youth Services Book Review
"Neufeld's quirky illustrations complement the story's tone, each mischievous raccoon depicted with a unique look and manner of movement ... Toronto readers, in particular, will enjoy the tongue-in-cheek depiction of their home city and its favourite pests."
- Canadian Review of Materials
"Highly recommend this book for any elementary school library as a funny read about our interactions with nature."
- Children's Literature Comprehensive Database
"Kids will like this. The text rhymes, and it would make a fun read aloud—especially at Halloween!"
- Kiss the Book
R. Ross Annett Award for Children's Literature, 2023
View full details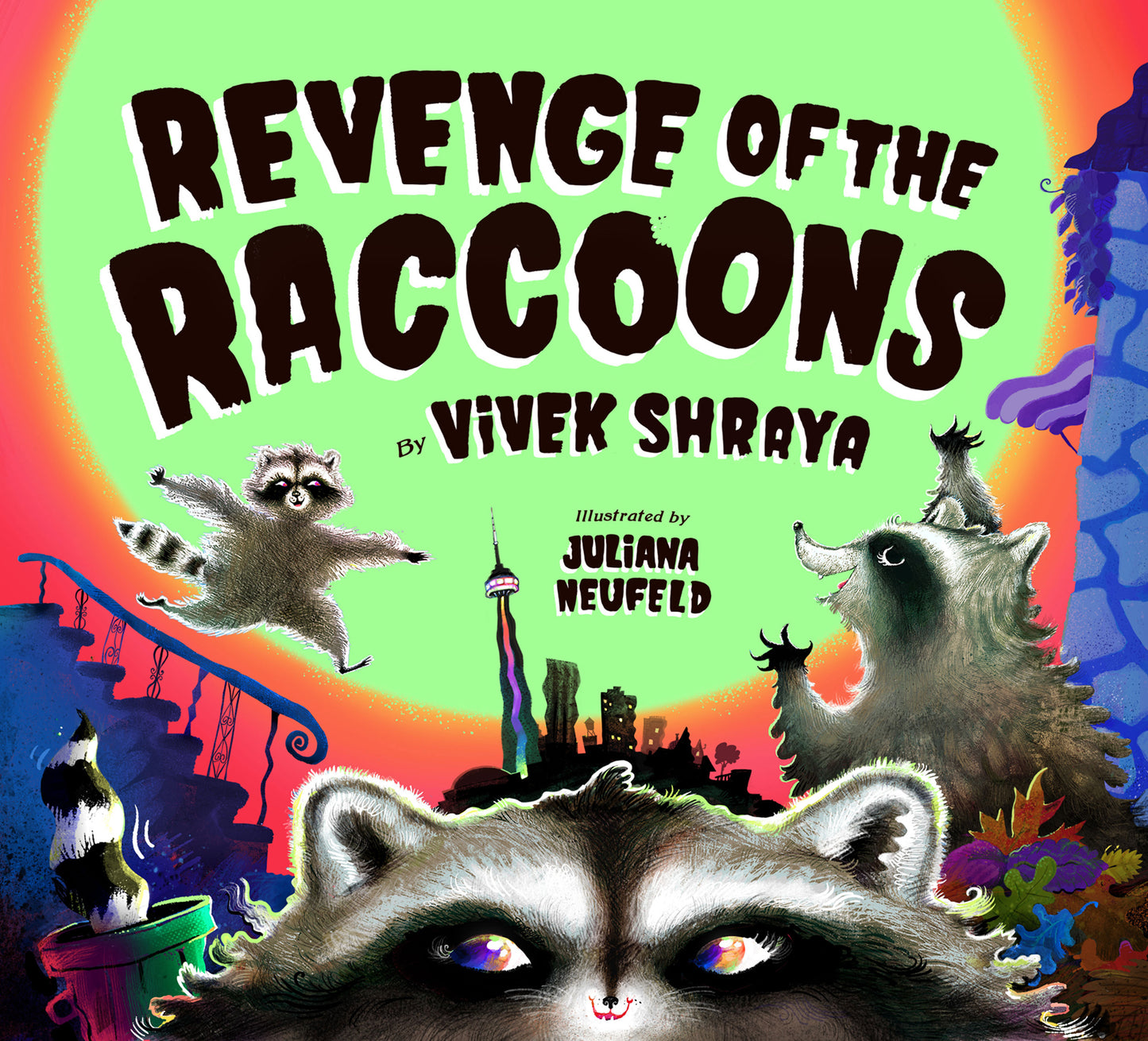 Publication date
October 15, 2022