Carry On
A moving #OwnVoices poetry collection written by young newcomers to Canada
Carry On began in a high school in Outremont, Quebec, where author and poet Simon Boulerice conducted creative-writing workshops for young newcomers to Canada. As the students began writing, their poems gave voice to their reflections on leaving family, friends, and countries of origin to make new homes and connections in their new home, Canada.
Paired with expressive portraits by award-winning artist Rogé, each young writer reflects on the experience of leaving one home for another. The collection of poems express feelings of anxiety, sorrow, anticipation, gratitude, and hope for the future. With thoughtful verse and evocative illustrations, Carry On is a tribute to human resilience, the voices of newcomers, and creating empathy for all those who wonder about their place in the world.
Various contributors, Rogé Girard
Regular price
Sale price
$17.95
Unit price
per
---
SKU: 210960n0nn1nWWW | ISBN: 9781771474160
"A sensitive and heartfelt voicing of the immigrant experience." - Kirkus Reviews
"A compelling look at the lives and feelings of student immigrants... A strong choice." - School Library Journal
"Showcases the diverse perspectives of young immigrants... Small but mighty." - Quill & Quire
"This collection can serve as a model for similar writing endeavors with immigrant communities or simply as a way for recent immigrants to process their own journeys." - Booklist
"It was amazing to read all the different places the students were coming from and trying to picture their experience." - Youth Services Book Review
"Carry On not only gives the metaphorical microphone to those with lived experiences, but also reinforces the idea that an immigrant or refugee doesn't look a certain way."
- The Tiny Activist
NCTE Notable Poetry Book, 2022
Best Books for Kids and Teens, 2021
Ontario Library Association Top Ten Best Bets List, 2021
USBBY Outstanding International Books List, 2022
Skipping Stones Book Awards, 2022
View full details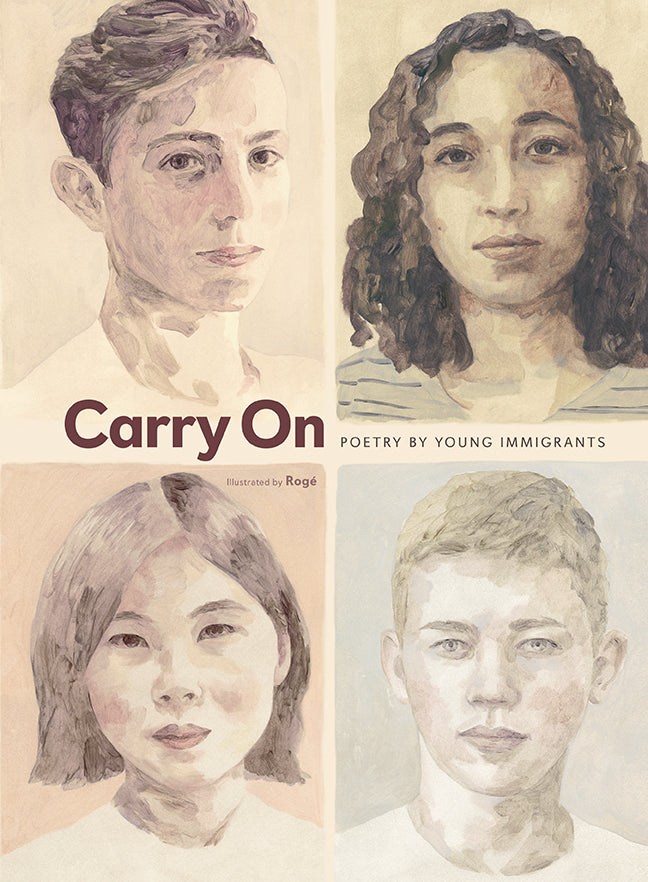 Publication date
April 15, 2021
Interest age
From 9 to 12