A Star Explodes
An exploding star in the year 1054 creates fascinating remnants still seen today
The supernova of 1054 was one of the brightest supernova events recorded in history. And its remnant, the Crab Nebula, is still studied today.
Beginning at the moment of a supernova explosion thousands of years ago, this story travels forward in time to 1054, the year people around the world saw the unparalleled light of an exploding star appear in Earth's sky. The story then travels deep into space to see the remnant of this supernova—the Crab Nebula—followed by a continuing trip forward in time.
Taking a unique approach integrating astronomy, cultural history, and advances in technology, the book encourages readers to think about the world around them and their place in the universe. Told in minimal, poetic text with stunning watercolor and ink illustrations, the book closes with an invitation for readers to imagine a time when they, too, might see the rare event of a supernova shining in the sky.
James Gladstone, Yaara Eshet
Regular price
Sale price
$18.95
Unit price
per
---
SKU: OB400019n0nn1nWWW | ISBN: 9781771474986
"Along with engagingly presented science details and an attractive timeline, a highlight of this work is the feeling of camaraderie it promises to generate in readers, who will meet a relatable, awestruck child gazing at the sky just like they do ... A worthy, artful science purchase."
- Booklist
"A simple introduction to a fascinating topic."
- Kirkus Reviews
"The finely detailed pastel illustrations are lovely ... Stargazing buffs may enjoy this book about a unique astronomical event."
- School Library Journal
"[Gladstone] always blends the elegance of the scientific world with the factual ... [Eshet] takes us into the heavens, into history, and into glorious landscapes across our world."
- CanLit for Little Canadians
"Beautifully composed, impressively 'kid friendly' in commentary and presentation, A Star Explodes is an entertainingly informative and unreservedly recommended addition."
- Children's Bookwatch
"Gladstone ensures the backbones of his stories are based in research and fact ... It's made all the more captivating with the watercolour and ink artwork by Yaara Eshet."
- Quill & Quire
Outstanding Science Trade Book List, 2024
Best Books for Kids and Teens, 2023
View full details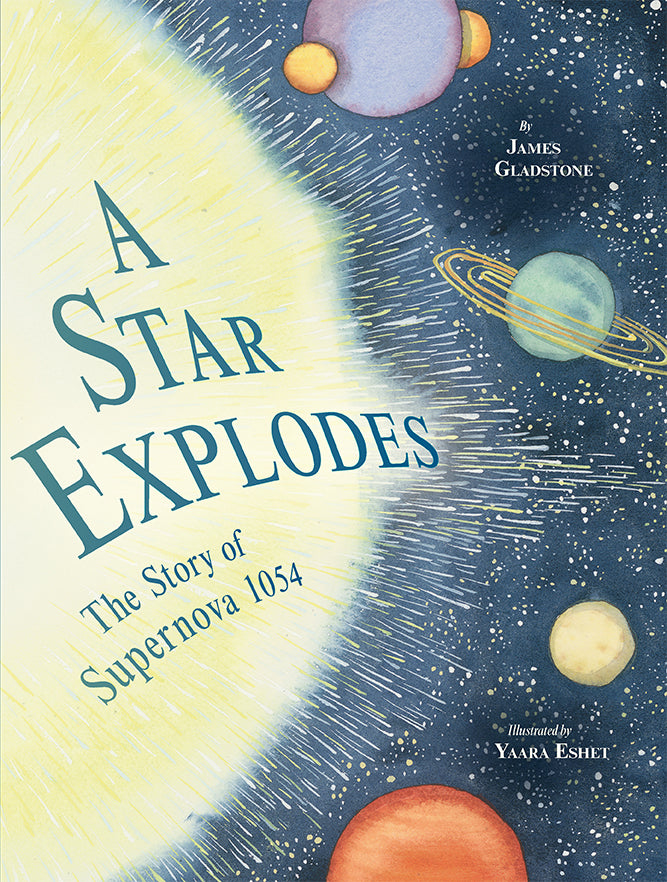 Publication date
March 15, 2023
Curriculum
Local and Global Communities