The Many Hats of Louie the Rat
An inventive rat saves the day with perseverance, creativity, kindness, and some helpful hats
Louie the rat loves turning not-so-useful things into ingenious inventions, but none of the other rats in town seem to appreciate his odd, often ineffective gadgets. One day, Louie notices his fellow rats wearing some not-so-useful hats: huge hats that don't fit through doorways, heavy hats that are difficult to walk in, and ridiculous hats that make it impossible to see. Inspired, Louie decides to make some useful hats for the town. From his never-ending supply of discarded things, he makes wool hats for warmth, wide-brimmed hats for shade, and hard hats for safety.
The other rats don't seem to care about his hats, until a few acts of kindness from Louie grab their attention. And when a crisis strikes, Louie uses his talents to craft a hat useful enough to save the entire town!
This delightful tale of big ideas and generous acts highlights the importance of tenacity and a growth mindset. Readers and young makers will draw confidence from Louie's resourcefulness and enjoy a visual feast of inventions to point out and ponder on each page.
Sakshi Mangal
Regular price
Sale price
$18.95
Unit price
per
---
SKU: OB400006n0nn1nWWW | ISBN: 9781771474955
[The illustrations] are amusing, and Louie is adorable."
- Kirkus Reviews
"This aspirational tale of a rat named Louie shows us once again that the struggle to be creative has its ups and downs."
- Canadian Review of Materials
"Themes of determination, resourcefulness, imagination, and kindness, will resonate with children who like to design, invent, and build their own creations. Plus, the theme of perseverance is sure to motivate readers to keep on inventing—and re-inventing!"
- Children's Literature Comprehensive Database
"The illustrations are so clever, so many fun things to look at on every page. The huge hats were hilarious, and sweet Louie ... such a darling story. A great example of growth mindset, repurposing, conservation, and being resourceful."
- Kiss the Book
View full details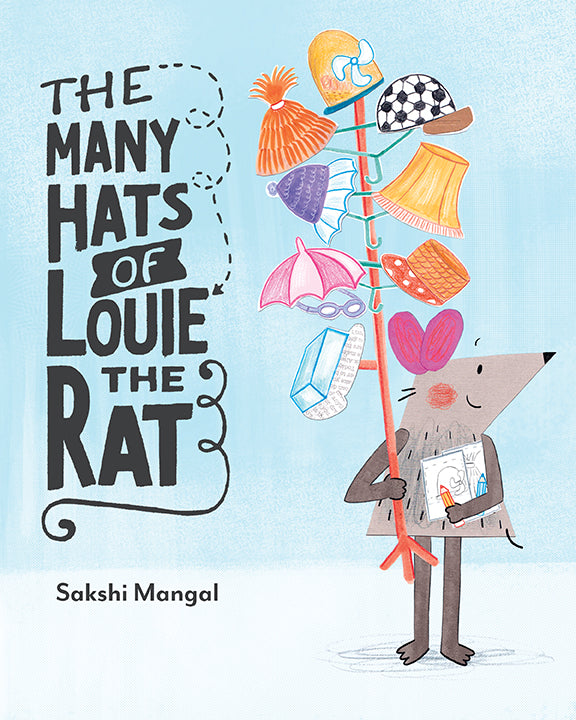 Publication date
October 15, 2022
Curriculum
Perseverance; Compassion