Amazing Athletes
An uplifting and engaging celebration of Paralympic champions and the sports they dominate
Discover the world of Para sport and meet some of its greatest athletes in this fascinating look at the third-largest sporting event in the world, the Paralympic Games.
This nonfiction book introduces readers to Canadian Paralympians and the sports they play, from PEI-born Para ice hockey pro Billy Bridges, to Goalball player and Iranian refugee Ahmad Zeividavi. Each section details a competitor's journey to professional sports, their greatest triumphs, and what inspires them most. Along the way, readers will deepen their knowledge of Para sports like Wheelchair curling, Para swimming, and more.
Drawing on interviews with competitors and comprehensive research, Amazing Athletes examines how disability and sport intersect, and encourages readers to persevere as they pursue their passions, athletic or otherwise. Dynamic, full-color photos bring the athletes to life, while a glossary invites curiosity and further research.
Marie-Claude Ouellet
Regular price
Sale price
$18.95
Unit price
per
---
SKU: OB400009n0nn1nWWW | ISBN: 9781771474856
"Every school or library needs at least one copy of Amazing Athletes ... Well-written, full of facts and colourful and inspiring photos of athletic stars."
- Canadian Review of Materials
Ontario Library Association Top Ten Best Bets List, 2021
Rocky Mountain Book Award, 2023
Red Cedar Book Awards, 2023
Yellow Cedar Award, 2023
View full details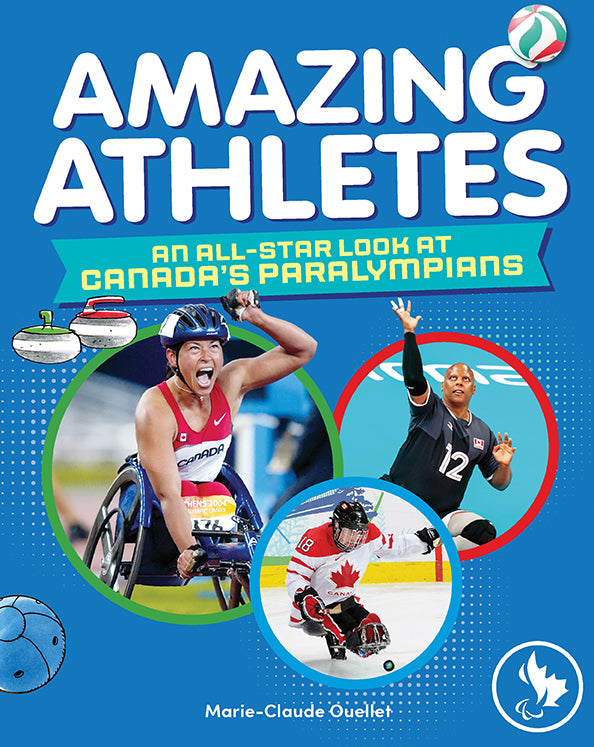 Publication date
August 15, 2021
Curriculum
Inclusion; Physical Literacy; Physical Disability
Interest age
From 8 to 12