A Leopard Diary
An inside look at the life of leopard cubs from nature photographer Suzi Eszterhas
World-renowned wildlife photographer Suzi Eszterhas loves leopards, but their elusive nature makes them hard to photograph. So when Suzi is invited to photograph a leopard and her cubs at a nature reserve in Botswana, she packs her bags and boards a plane to Southern Africa!
Through a series of diary entries, Suzi invites readers to follow two leopard cubs as they grow from tiny furballs to fierce predators. It's a dangerous world for leopard cubs, so their mom is always close by—feeding her little ones, protecting them from threats, and teaching them how to survive in the wild. Suzi captures sweet maternal moments, dangerous encounters, and hilarious antics—such as when one of the leopard cubs sleeps in a pile of elephant poop!
Stunning full-color wildlife photography brings the leopard cubs to life, while fun facts throughout the book deepen the reader's understanding of these amazing creatures. Suzi's passionate storytelling and compelling voice will evoke respect for all wildlife and inspire readers to help protect it.
A portion of the royalties from sales of this book will be donated to Children in the Wilderness, a non-profit organization that promotes sustainable conservation through the education and leadership development of rural children who live close to African reserves.
Suzi Eszterhas
Regular price
Sale price
$18.95
Unit price
per
---
SKU: OB400005n0nn1nWWW | ISBN: 9781771474917
"For young readers, this is an adventure of a lifetime. [A] real treat in book format ... Put this book on the shelves and let readers go on this adventure; it is well worth the purchase."
- School Library Journal - STARRED REVIEW
"A gifted animal photographer records encounters with a wild leopard and her offspring ... Fascinating reading and viewing." - Kirkus Reviews
"Written in a series of present-tense diary entries, the story creates a great sense of immediacy ... An appealing choice for animal lovers."
- Booklist
"This dynamic diary allows children to follow in the footsteps of a notable photographer and writer. A Leopard Diary is highly recommended for wildlife lovers of all ages."
- Children's Literature Comprehensive Database
"The author's writing style is perfect for a young audience of animal lovers. She shares her reactions and emotions—excitement, impatience, fear, exhaustion, delight—naturally in easy to read and often amusing text ... Between images and facts, the reader will gain considerable knowledge about this species."
- Canadian Review of Materials
A Junior Library Guild Selection, 2022
View full details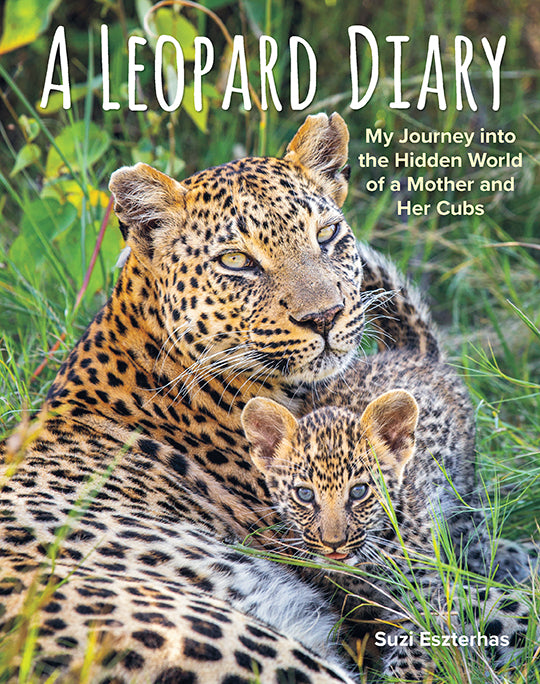 Publication date
November 8, 2022
Curriculum
Understanding Informational Text; Genre
Interest age
From 7 to 10